Once you've taken in the Met, or, if you find you simply don't have the time to attempt it but want an art fix anyway, walk a few short blocks south and you'll arrive at
the Frick Collection
. Home to a (comparatively) modest selection of classic artworks, the Frick is a worthwhile visit on its own.
The museum houses a who's-who collection, primarily of portraiture. You get your Rembrandts, your Velasquez, a couple of decent Gainsboroughs, and so on. You also get
Vermeer
, which was a very nice surprise. The Frick houses 3 out of the ~35 or so known works by him. That's a pretty high percentage for any artist in one museum not named after them. It was also a nice warm-up for my next art book read, which is a thin collection of his complete works that I picked up for a song at Barnes and Nobles recently, on the clearance rack.
The highlight of the collection, for me, was Hans Holbein the Younger's stunning portrait of Sir Thomas Moore (left). A staple of art history overviews, and possibly his masterpiece, it was nicely displayed, with impeccable technique--utterly realistic but beyond photography. Looking at his strong visage, you'd never guess the guy wore a cilice every day and ended up beheaded at the Tower of London, his head on a pike on London Bridge. Though Titian was on the wall opposite, poor Titian--no slouch--was easily overshadowed by his Northern contemporary. Equally stunning, for different reasons, was the other Holbein portrait further down the same wall--an example of the artist's "B" game. Or "C" game, perhaps. I frankly hate that terminology, but it definitely gets the point across.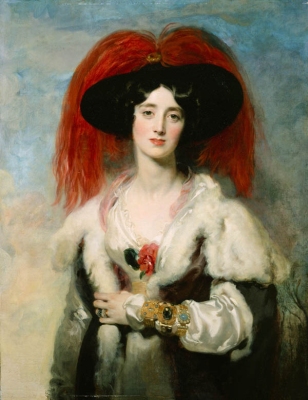 There were a number of fine pieces by artists I was not familiar with, but the one that really caught my attention was Sir Thomas Lawrence's portrait of Julia, Lady Peel. It's a fairly straightforward portrait, whose reproduction here does it no justice. In person the piece is much more vibrant, and the brush work both refined as well as smart.
There's lots to recommend a visit. I mean, I'm skipping over an Ingres masterpiece here for the sake of brevity. There's also an unfortunate amount of Rococo. A whole room of large Fragonard installed paintings, and too many Boucher paintings for my own tastes. They have their charms, in small amounts. Like Skittles. Downsides: no photography allowed, and a somewhat pricey entrance fee. If you decide to visit, check out the "Pay What You Want" hours on their website--I couldn't make it during that period.